The Lord's tender mercies do not occur randomly or merely by coincidence. Faithfulness and obedience enable us to receive these important gifts and, frequently, the Lord's timing helps us to recognize them.
I guess you may have heard by now, Elder Busath suffered a major heart attach
o
n Monday, June 21, 2016!
I wish I could be more light-minded and just gloss over the experience, but I can't.
It has changed our lives.
At the Idaho Boise Mission Office bright and early Monday morning preparing to drive 18 of our missionaries to the Idaho Pocatello Mission as a result of the recent Idaho Missions boundary changes.
Elder Busath's heart attack story began with a simple sore shoulder. He had noticed it the day before and woke up early Monday morning with continued mild pain. He took some over-the-counter pain medication, and then headed to the Mission Office thinking the pain would go away. Later that morning, the shoulder ache was still there so he said a quick prayer and asked that the pain be removed or increased so he would know if he could safely continue on the trip to Pocatello. The answer to his prayer was immediate and he quickly told me to get in the car and drive to the nearest hospital.
I reluctantly drove him to the emergency department at St. Luke's Hospital in Meridian. Because I am directionaly impaired and wasn't sure where another hospital might be I quickly followed his instructions. I guess I didn't really believe him when he said that he thought he was having a heart attack (although he was exhibiting all the classic signs; sweating, chest pain, arm and shoulder pain).
When we arrived at the hospital I discovered that he had texted our oldest daughter, Andi, to advise her of his concerns just before we left. She just happens to work in the Emergency Department at St. Luke's so she called them and told them to prepare for his arrival. The Emergency Room staff and a cardiologist were waiting for us and after they were finally able to perform an EKG on him they had us
racing down the hallway to the cath lab. I assumed that if it were a heart attack they would be prepping him for surgery, so when they said that they would follow up with me in a few minutes, I expected my wait to last for hours.
Minutes later the cardiac team came to the waiting room, where they informed me they were able to save him.
Elder Busath had a 100 percent blockage in his main coronary artery, which his surgeon immediately opened up with two stents.
They said he would have died if he had come in just a few minutes later.
Only two percent of patients generally make it, but we were blessed.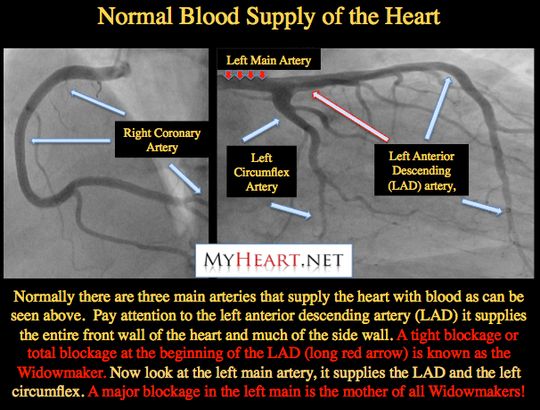 There are three arteries that run over the surface of the heart and supply it with blood. (See the diagram above.) There is one artery on the right side and two arteries on the left side of the heart. The one on the right is known as the right coronary. On the left side, which is the main side, we have the
left anterior descending (LAD)
that runs down the front of the heart and supplies the front and main wall, and then the left circumflex that supplies the side wall. When the main artery down the front of the heart (LAD) is totally blocked or has a critical blockage, right at the beginning of the vessel, it is known as the Widow Maker. (The medical term for this is a proximal LAD lesion). No one knows exactly who came up with the term, but the reason they did is likely that if that artery is blocked right at the beginning of its course, then the whole artery after it goes down. This essentially means that the whole front wall of the heart goes down. As far as heart attacks go, this is a big one, with big consequences if not dealt with appropriately.
(On a side note, Sister Busath's father died at the age of 40 as a result of a Widowmaker)
If you know Elder Busath you know that even a major heart attack is not enough to keep a good man down! So on Wednesday, following his discharge from the hospital, we had to stop by the Mission Office for an hour to put out some fires before going home. W
e had nine houses that we needed to close down before our new Mission President arrived on Tuesday so it was business as usual.
Of course he would have to be a supervisor instead of a worker bee but after a few phone calls we were able to schedule help from the Elders now in the Idaho Nampa Mission and the Elders in Boise.
Another tender mercy was to find that the sisters had been obedient and had left their place shining a instructed! It was one less thing we had to worry about.
On Saturday

Elders Adkins and Melton met us at the Lowder home to help close it down following the transfer of the two sisters to the Pocatello Mission.
Elders Anderson, Benavides, Saline and Dean helping us empty out surplus furniture
Elder Neubarth and Elder Smith waiting at the storage unit to help us unload our treasures.
Grandparent Corner
Shelby and Sienna checking out the puppies by Cabelas.
Kahlen meeting her Great Grandma (GG)for the very first time!
"We should not underestimate or overlook the power of the Lord's tender mercies. The simpleness, the sweetness, and the constancy of the tender mercies of the Lord will do much to fortify and protect us in the troubled times in which we do now and will yet live. When words cannot provide the solace we need or express the joy we feel, when it is simply futile to attempt to explain that which is unexplainable, when logic and reason cannot yield adequate understanding about the injustices and inequities of life, when mortal experience and evaluation are insufficient to produce a desired outcome, and when it seems that perhaps we are so totally alone, truly we are blessed by the tender mercies of the Lord and made mighty even unto the power of deliverance"
(see
1 Ne. 1:20
).
If we had just one piece of advice to give it would be to l
isten to your body! We really thought that we were doing
a fair job of exercising and eating right, but I guess we were wrong. Elder Busath had been feeling tired and out of breath for weeks, but we just chalked it up to getting older.
In closing we just want to thank you for the prayers said on our behalf. We are still a little in denial, but know that the Lord was watching out for us.
..."your families are well; they are in
mine hands
, and I will do with them as seemeth me good; for in me there is all power."
Doctrine and Covenants 100:1
After this experience we may never take off these missionary badges!